Dosimetry and QA Solutions for MR-Guided Radiotherapy
Which detector is best suited for reference and relative dose measurements in 1.5 T magnetic fields? Which clinically proven tools are available for routine QC measurements? Which water phantom can be safely used on MR-LINACs? Discover PTW's newest technologies and how they support your dosimetry needs for next-generation MR-LINACs.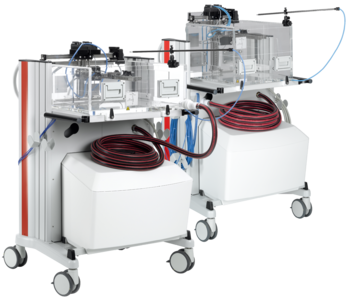 BEAMSCAN® MR
The first motorized 3D water phantom suitable for clinical use in a 1.5 T MR environment
Benefit from a complete solution for commissioning and QA of MR-LINACs – from automatic beam data acquisition, processing and analysis to protocol-based documentation. Built to the highest quality and technology standards, BEAMSCAN MR is exceptionally robust, incredibly versatile and straightforward in its operation. As an all-built-in system, it comes ready to use on a single carriage, including everything needed. A comfortable touch panel guides you step by step through the installation and setup process.
Dedicated 3D water phantom for use with MR-LINACs ( ≤ 1.5 T)
Two models with vendor-specific water tanks for optimized scanning ranges:
568 mm x 145 mm x 355 mm for Elekta Unity,
408 mm x 248 mm x 355 mm for ViewRay® MRIdian®
All-in-one, ready-to-use system with comfortable touch panel for fast setup
Auto alignment – no lasers or light field needed
Maximum speed of 30 mm/s for faster scanning
Reference-class Semiflex 3D ionization chambers for precise dose measurements in small and standard fields up to 40 cm x 40 cm
Quick axial and radial detector setup with patented TRUFIX®
Consistent detector orientation for all scans, including off-axis scans
Fast, sensitive electrometer with excellent signal-to-noise ratio for perfect scans in all field sizes
Straightforward operation – from setup to documentation
Fully integrated with Track-it for automated reporting
Use of the BEAMSCAN MR Water Phantom for Commissioning and Quality Assurance of a ViewRay MRIdian Linear Accelerator
Learn from first-hand experience of Henry Ford Cancer Institute how the 3D water phantom BEAMSCAN MR delivered improved commissioning efficiency and accuracy.
STARCHECKmaxi ® MR
Comprehensive machine QA for MR-LINACs with one single device
As a flat-panel ionization chamber array, which is quick and easy to set up on the treatment couch, STARCHECK MAXI® MR combines versatility with outstanding efficiency. One shot delivers all relevant beam data for radiation fields up to 40 cm x 40 cm, eliminating the need to set up a 3D water phantom in daily routine or after service and repair.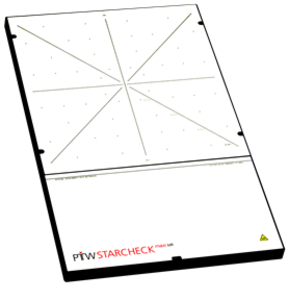 The only detector array to measure radiation fields up to 40 cm x 40 cm
Fast acquisition of all relevant beam parameters in one single measurement
Real-time display of beam profiles and analysis results for consistency checks and beam steering
Highest spatial resolution (3 mm) for outstanding accuracy in all field regions, including the penumbra
Optimal detector layout and density for QC measurements –
707 air-vented ionization chambers arranged in a star pattern
Gold standard ionization chambers – no need for frequent recalibration
Expert analysis tools, e.g., profile comparison, protocol-based analysis, movie mode
Fully integrated with Track-it for automated reporting
OCTAVIUS Detector
1500 MR and 1600 MR
Comprehensive patient QA for MR-LINACs
These flat-panel ionization chamber arrays can be easily set up on the treatment couch and combined with different phantoms for patient-specific plan verification. With a detector density and resolution perfectly adapted to the application, these dedicated MR-conditional detectors provide very reliable and accurate measurements of the dose delivered.
OCTAVIUS Detector MR Highlights
Flatpanel ionization chamber array
Filmless patient plan verification and machine-specific QA
Suitable for use with the OCTAVIUS I and II systems
Supported by the measurement and evaluation software programs VeriSoft and BeamAdjust
Fully integrated with Track-it for automated reporting
OCTAVIUS Detector 1500 MR Highlights
Outstanding detector and matrix design: 1405 vented cubic ion chambers
Active volume 4.4 x 4.4 x 3 mm3 per chamber
Detector spacing 7.1 mm center-to-center (diagonals)
Uniform field coverage in a 27 x 27 cm² matrix
OCTAVIUS Detector 1600 MR Highlights
Detector array with 1521 liquid-filled ionization chambers
Active volume 2.5 x 2.5 x 0.5 mm³ per chamber
Detector spacing in central area: 2.5 mm
Best available field coverage for SRS applications with a field size of 15 x 15 cm²
Semiflex 3D MR & PinPoint® 3D MR
MR conditional chambers with optimized MR imaging features
The MR detectors come with the same characteristics as the popular Semiflex 3D (T31021) and PinPoint 3D (T31022). These new versions are specifically designed for the usage with MR-LINACs such as Elekta UNITY and ViewRay MRIdian. Besides machine QA, these chambers can be used for End2End testing to check the gating algorithm of MR LINACs.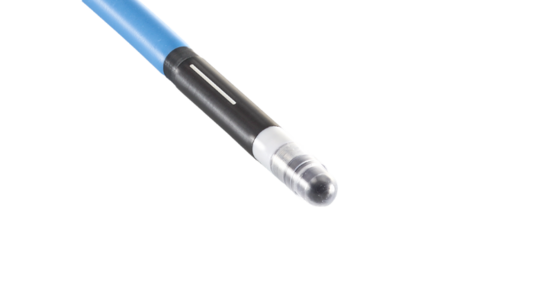 Brochure
MR-RT Products (
)
Note
BEAMSCAN MR with Halcyon Linac (
)
Catalog
Detectors Catalog (
)