Study on Mouse Hyperthermia Experiments Wins Dietrich Harder Master's Thesis Award 2023
The Dietrich Harder Master's Thesis Award is traditionally awarded at the Annual Meeting of the German Society for Medical Physics (DGMP). The award has been sponsored by PTW since 2016 to recognize scientific achievements of master's graduates in the field of medical radiation physics. This year's award went to Benjamin Kahlert, PhD student at the Radiation Oncology Department of the University Hospital of Erlangen.
In his award-winning thesis titled "Creation of a Simulation and Staging Device for Reliable Mouse Hyperthermia", Benjamin Kahlert establishes a hyperthermia setup for preclinical research on mice optimized through the use of electro-magnetic and thermal simulations.
Hyperthermia treatments usually applied in mice experiments consist of either water-bath mediated or whole body treatments. Using such hyperthermia treatments covers up potential abscopal effects as well as differences caused by the method of heating, i.e., microwave radiation versus conductive heating. A successful study of the effects of microwave-mediated hyperthermia in mice requires careful control of the deposited energy as well as an in-depth knowledge of temperature changes in treated tumour tissue. Adapting a microwave system for use on mice is therefore of great interest for future investigations.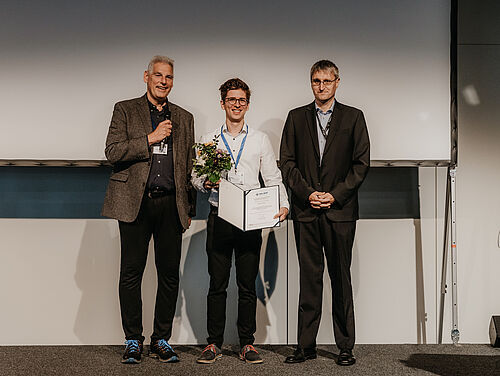 In his master's thesis, Kahlert succeeded in establishing a simple-to-use method for independently recording temperatures during hyperthermia treatments. Requiring only a single calibration value, comparative to the clinical procedure, the readout device is capable of measuring temperatures with a median deviation of only 0.35 °C. An electro-magnetic and thermal simulation for hyperthermia treatments was created and found to be able of qualitatively predicting different behaviours when compared to agarose phantom measurements. These simulations were then used to optimize the design of the mouse applicator, and a smaller and more consistent heating profile was successfully experimentally confirmed using mouse-shaped phantoms. The applicator restricts antenna movement, ensuring homogeneous coupling along the length of the antenna by using a basin filled with phantom material. This basin also prevents direct contact between antenna and mouse, thus avoiding potential burns. Both the temperature recording system and the applicator can now be used for preclinical mice experiments.
Benjamin Kahlert studied physics at Ludwig Maximilian University of Munich and wrote his bachelor and master's thesis at the University Hospital of Erlangen, where he is currently employed as a PhD student.
Further information about the prize is available on the DGMP website.
In addition to the Dietrich Harder Master's Thesis Award, PTW also donated a poster prize this year. Lukas Gabrisch from Oldenburg received the award for his poster titled "Quantification of neutron flux in medical linear accelerators by means of SRAM detectors using 15 MV photon beams".