UNIDOS® Tango and UNIDOS® Romeo
The New Generation of Reference Class Electrometers
In 1922, PTW launched the first therapy X-ray dosemeter that was a technological milestone in the measurement of radiation dose.
Nearly 100 years later, the third UNIDOS electrometer generation once again raises the bar in technology and usability.
Explore its highlights and clinical benefits.

Be quick and secure one of only 100 UNIDOS Tango electrometers, showing the skyline of Freiburg, where PTW is headquartered since 1922.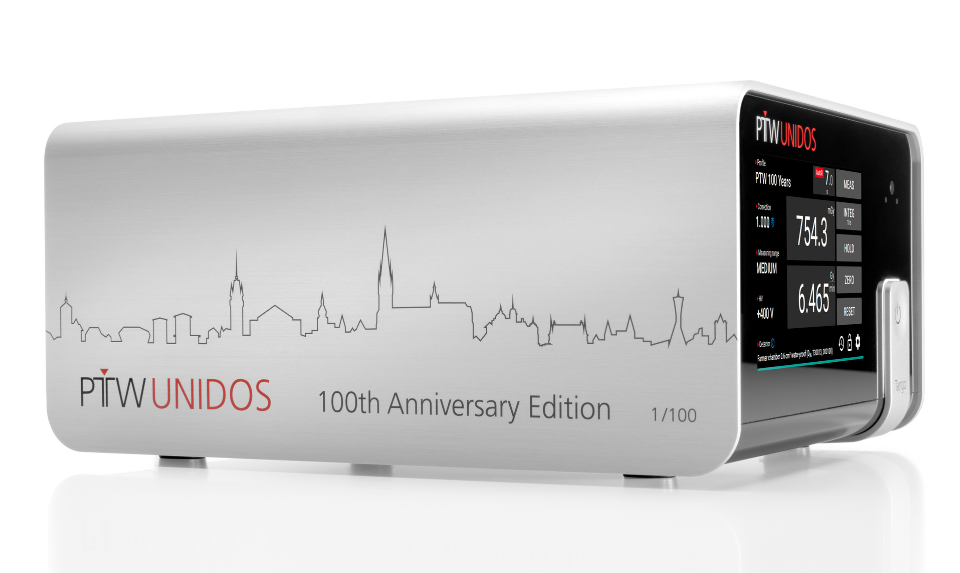 Striking Design. Exceptional Performance. Impressive Functionality.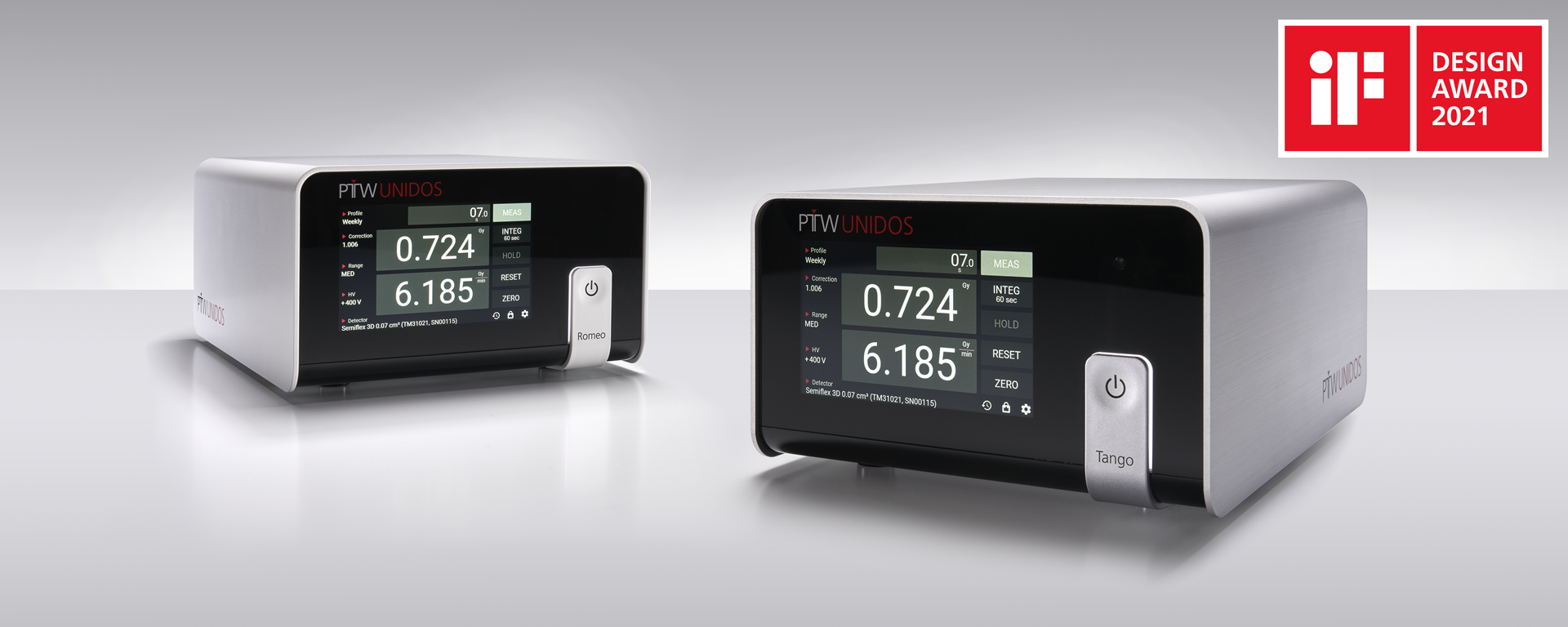 Intelligent Detector Recognition
Full remote control (LAN/WiFi)
Intelligent Detector Recognition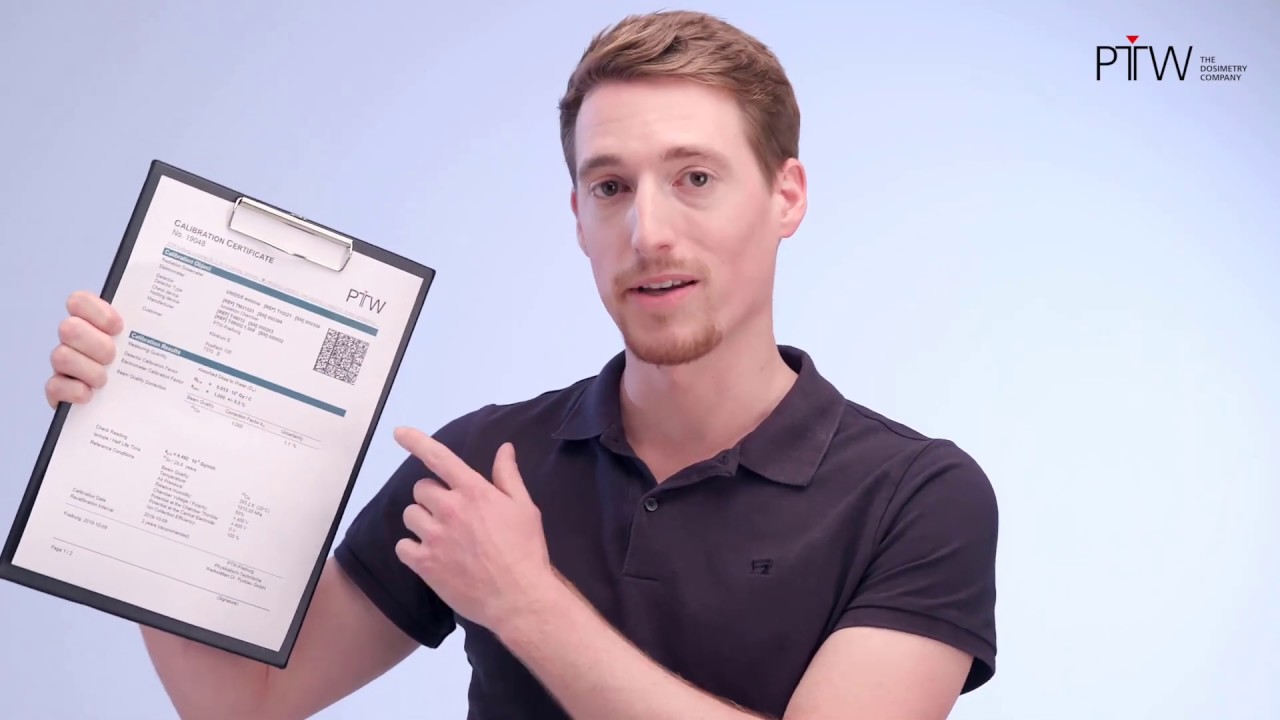 Intelligent Detector Recognition
With its built-in camera-based 2D code scanner, UNIDOS Tango is the first electrometer to automate detector management and identification by using detector-specific data matrix codes and state-of-the-art scanning technology.
Updating your detector database or selecting the right measurement detector is now very easy and less error-prone: Simply scan the data matrix code on your calibration certificate or detector label with the device camera. No manual data entries needed. One code, one scan. IDR is particularly useful for clinical sites with multiple electrometers and/or detectors in use.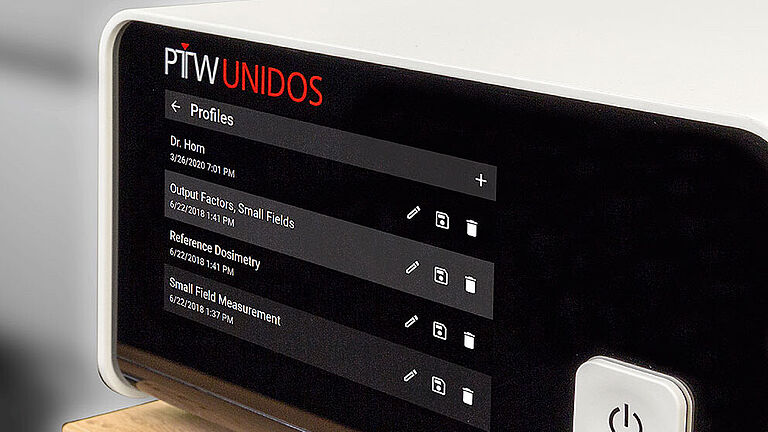 Individual user profiles
Reduce setup time and improve measurement consistency. Save your favorite device settings and detector parameters for frequent or specific measurement tasks, e.g., preferred measurement detector, user-defined correction factor and measurement range, as password-protected user profiles. A simple tap on the User Profile menu of your UNIDOS electrometer gives you immediate access to all profiles stored.
Full remote control (LAN/WiFi)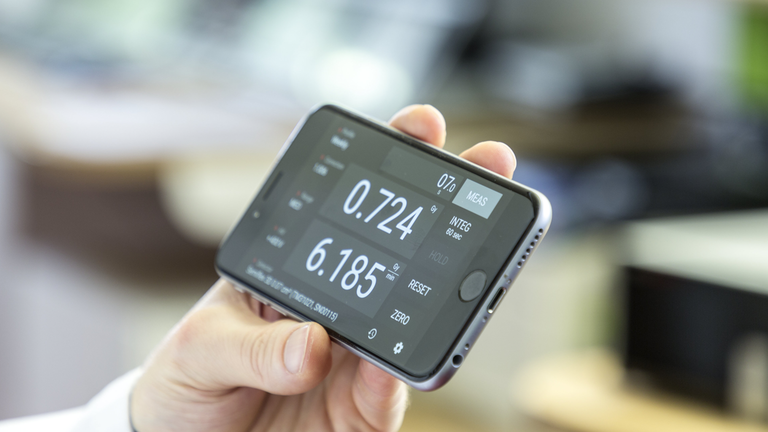 Full remote control capability
Hard-wired Ethernet or WiFi? Your choice. Connect your UNIDOS Tango to your local area network and control it remotely from your PC. Access its built-in webserver using any WiFi-enabled device – no app needed. Simply type its URL into a standard web browser and view measurement results directly on your smartphone or tablet from anywhere on site. As a smart electrometer with multiple connectivity options, UNIDOS Tango is incredibly easy and flexible in its operation.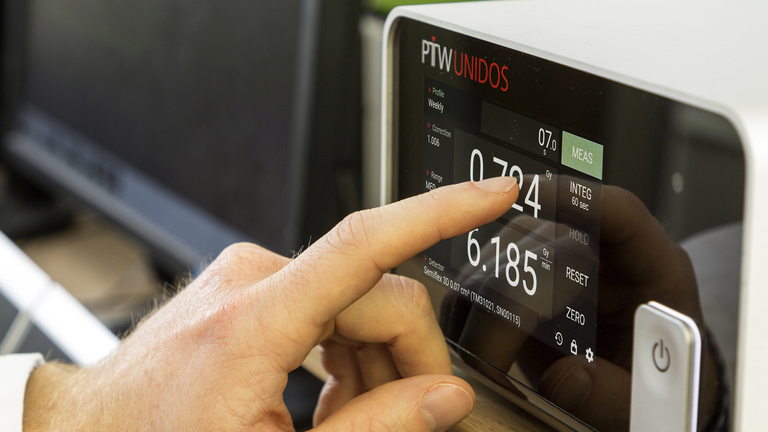 Intuitive touchscreen
The new UNIDOS generation is all about ease of use. It is the first to come with a capacitive touchscreen and a clean multi-lingual user interface, which gives you instant access to all relevant settings – in up to nine languages and with the simple touch of a finger. Measurement readings and other important data are always clearly visible on the main screen and from any viewing angle.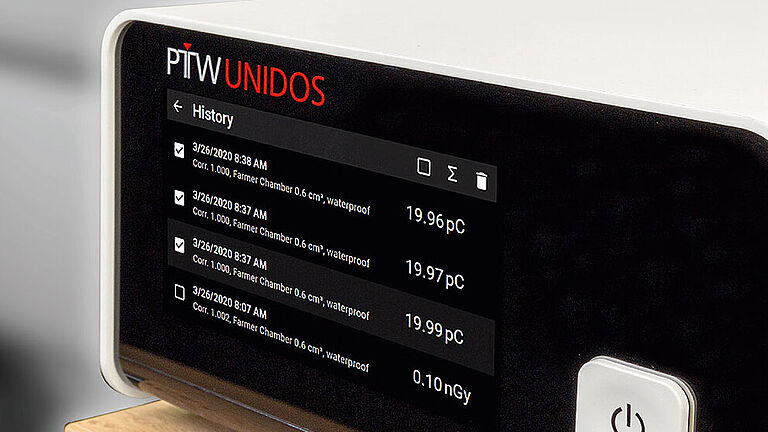 Instant access to data
Readings are automatically saved to memory and can be instantly accessed with a single tap on the screen. Review the last 50 measurements and quickly calculate mean value and standard deviation right on the spot.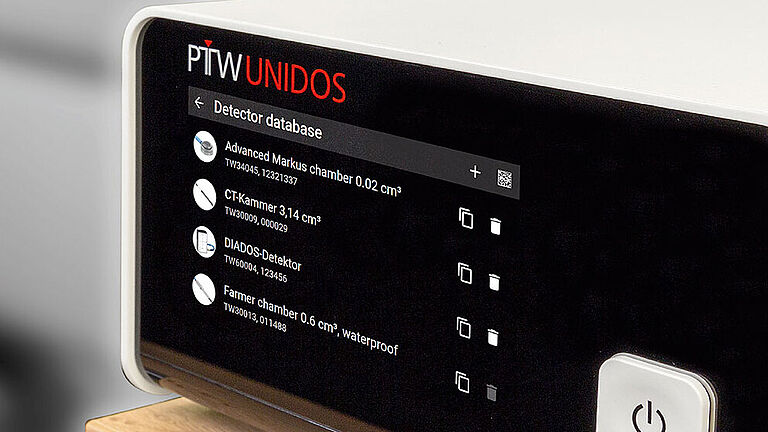 Versatile detector database
Efficiently manage up to 100 different detectors and their calibration data in one comprehensive, easy-to-access detector database. Ready-to-use detector templates make it easy for you to add and/or update detector-specific data with just a few mouse clicks.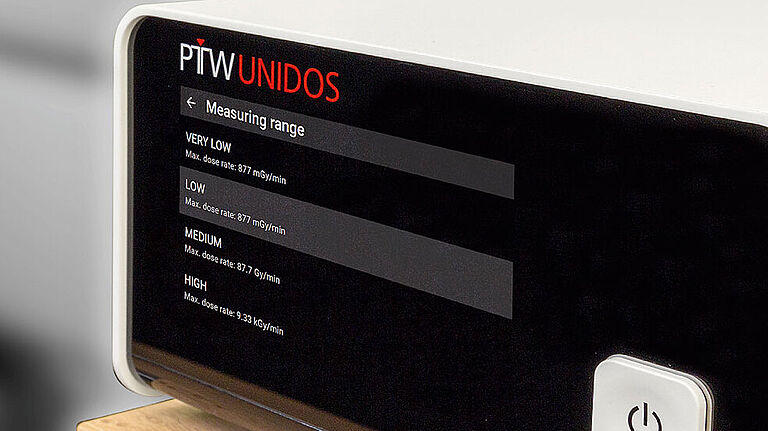 Exceptional performance
As reference class electrometers that exceed IEC performance requirements, the new UNIDOS electrometers deliver fast, reliable and highly accurate results across all applications. Equipped with industry-leading amplifier technology, they are exceptionally stable and ready for use immediately upon start.
With the best available resolution (0.1 fA) in the market, the new UNIDOS Tango is your tool of choice for high-precision measurements, e.g., in small field dosimetry.
Intelligent Detector Recognition

Choose comfort
A scan is all it takes to keep your detector database up to date or identify the right detector. No manual entries or selections needed. Enjoy maximum ease of use thanks to automation.

Eliminate Errors
One mistype, and the wrong calibration factor is entered, or the wrong detector selected. By automating data entry tasks, IDR helps to avoid human errors and improve data quality.

Increase efficiency
IDR combines speed and accuracy. No need to type in data or search for your measurement detector in the detector database – it's all in one code, and just one scan away.
Which UNIDOS is best for you?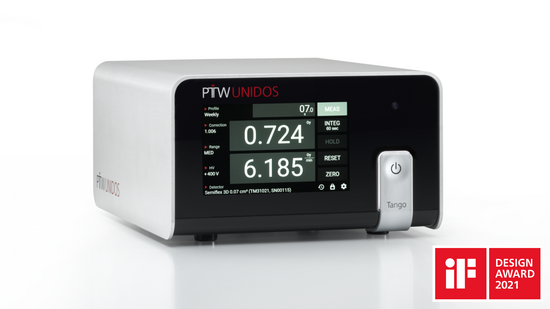 The Smart Reference Class Electrometer

Intelligent


UNIDOS Tango automates detector management and identification using Intelligent Detector Recognition. Simply scan the data matrix code on your calibration certificate or detector label with the built-in camera, and a new detector is added to the database or the right detector chosen for measurement.

IDR is particularly useful for clinical sites with multiple electrometers and/or detectors in use as it increases efficiency and reduces data entry errors.

Connected

With its built-in webserver and LAN interface, UNIDOS Tango provides full remote control capabilities. Change settings or start measurements conveniently from your PC, view results instantly on your tablet or smartphone.

If you are looking for maximum comfort and flexibility in operation, then UNIDOS Tango is the instrument of choice for you.

Secondary standard

UNIDOS Tango is a secondary standard reference class electrometer which meets and exceeds both IEC and IPEM performance requirements. With the best available resolution in the market (0.1 fA), it is the perfect choice for high-precision measurements, e.g., in small field dosimetry.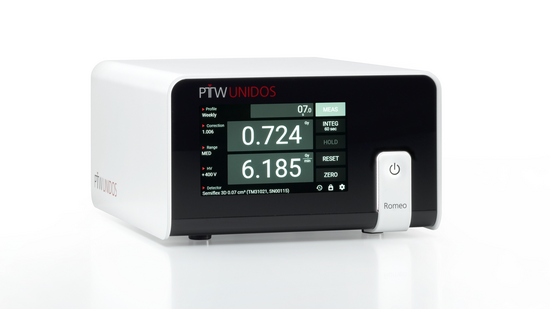 The Standard Reference Class Electrometer
Highly functional


UNIDOS Romeo is a high-precision reference class electrometer which provides the functionality you need for routine operation. Managing the built-in detector database is not fully automated, but much simplified with an intuitive user interface and ready-to-use detector templates.

Choose UNIDOS Romeo if you have a smaller budget, but do not want to compromise on accuracy and performance.
Standalone


UNIDOS Romeo has been designed primarily for standalone use. It comes with an intuitive touchscreen interface, which gives you instant access to all important settings and options, making standalone operation very easy.

With its user-friendly design, it is perfect for sites who want best-in-class measurement technology, but do not need multiple connectivity options.
State-of-the-art

UNIDOS Romeo is a versatile reference class electrometer that exceeds IEC 60731 performance requirements. It comes with a resolution of 1 fA, which makes it a reliable tool for reference dose and quality assurance measurements across all major applications.
Make your UNIDOS complete.
Benefit from a single source solution where all critical parts and components are precisely matched to each other.
PTW Reference Chambers
PTW reference class ionization chambers are known for their exceptional stability and accuracy. Available in different shapes and sizes, they are a perfect choice for reference dosimetry measurements according to all major dosimetry protocols, such as DIN 6800-2, AAPM TG-51 or IAEA TRS-398.
To ensure maximum accuracy, each PTW reference chamber is supplied calibrated with traceability to a primary standard.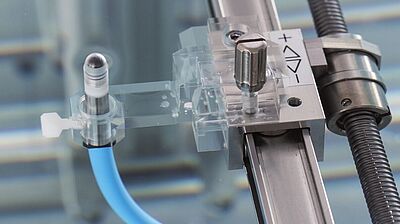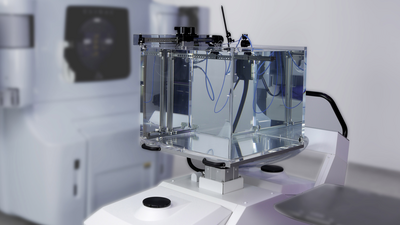 High-Precision Phantoms
Select from a wide range of dedicated phantoms for reference and routine quality measurements – from automated 3D water phantoms, small 1D water phantoms to water-equivalent slab phantoms. Manufactured in house to tight tolerances, PTW phantoms ensure compliance to standards and precise and reliable day-to-day operation.
Appropriate detector holders and adapter plates make it easy for you to accurately position your PTW reference chamber in the recommended measurement position, e.g., EPOM.
At PTW, we know that responsibility does not stop with the sale of a product.
How we can support you?
Brochure
UNIDOS Tango & Romeo (
)
Brochure
UNIDOS Tango Reference Class (
)
Brochure
Service Contracts (
)
Note
UNIDOS Tango / Romeo / webline /E Comparison (
)