PTW is Supporting Medical Physics in Bangladesh
Since the 1990s, various German organizations, including PTW, have been promoting medical physics education in Bangladesh ꟷ through training, donations and dosimetry equipment. With much success: In 2021, the "Asia-Oceania Congress on Medical Physics" will be taking place in this South Asian country for the first time.

While talking about the upcoming Congress of Medical Physics, you can hear the pride in Professor Golam Abu Zakaria's voice. Subconsciously, he begins to speak a little faster – for a good reason: In December 2021, the "21st Asia-Oceania Congress on Medical Physics" will be taking place in his native country for the very first time. Zakaria has lived in Germany since 1972 and teaches at Anhalt University of Applied Sciences. Up to his retirement in 2019, he worked as a medical physicist in Oberberg Hospital. Almost from the beginning he has initiated projects to help improve medical care in his native country, particularly in the fields of medical physics and dosimetry. "The Asia-Oceania Congress on Medical Physics is a fantastic success for Bangladesh," he adds with enthusiasm and explains how it came about: "In the last decades, we've managed with very little money and plenty of idealism to make Bangladesh a location for medical physics – with very positive effects on the whole region."


"The history of medical physics in Bangladesh is directly related to the support from Germany. The cooperation was the starting point – before that there was neither training nor linear accelerators."

Prof. Dr. Golam Abu Zakaria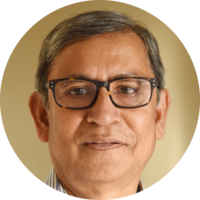 Donations and Dosimetry Equipment from PTW
PTW, among others, has contributed: The company has been supporting Golam Abu Zakaria with the development of a professional medical physics infrastructure in Bangladesh for many years. Experts from PTW's "The Dosimetry School" travel regularly to the South Asian country where they hold seminars and lead workshops for students and practitioners. The speakers and trainers often bring along the required dosimetry hardware, which the course participants use to practise, in their suitcases. Additionally, PTW supports them with donations, last in 2020: The PTW calendar with pictures of the Black Forest, which has been popular among customers and partners for many years, was this time not given as a freebie, but sold for a good cause throughout PTW's sales and distribution network. Several thousand Euros were raised from this campaign, all of which were donated to the South Asia Center for Medical Physics and Cancer Research (SCMPCR) in Bangladesh – via the non-profit association "Bangladesh Study and Development Center" founded by Zakaria.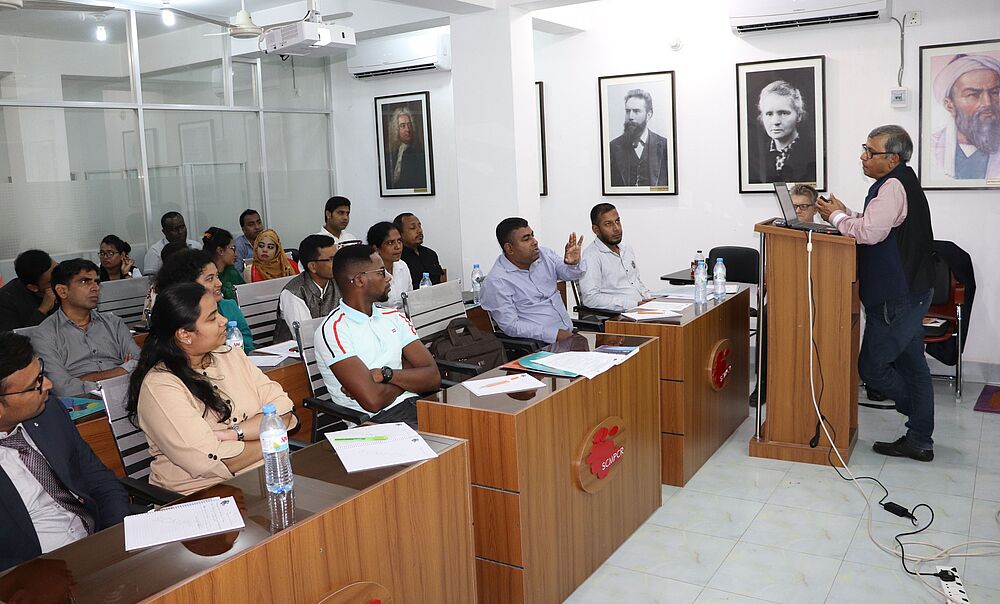 Promoting medical physics in Bangladesh through training and education: Hands-on workshop on small field dosimetry at the SCMPCR training center in Dhaka, October 2 – 4, 2019, supported by PTW; Photo credits: SCMPCR
The Aim: Advancing Medical Physics and Radiation Oncology
SCMPCR, which was founded by Golam Abu Zakaria in 2018, is a seminar center in Dhaka, the capital city of Bangladesh. It offers courses in medical physics, dosimetry and radiation oncology three times a year, and in addition also provides advice and information on cancer and preventative care. The center was formed as result of a close cooperation between German and Bangladeshi institutions, which has been ongoing since the 1990s: Heidelberg University, the German Cancer Research Center (DKFZ), and the work group "Medical Physics in Developing Countries" of the German Society of Medical Physics (DGMP) have been working together with institutions from Bangladesh since 1996 in developing medical physics in this region. Since 2014 the Medical Faculty Mannheim of Heidelberg University has been collaborating with Gono Bishwabidyalay University in Savar (Dhaka), supported by the German Academic Exchange Service (DAAD), in an on-going project. The aim of this project is to train students, to create an exchange between German and Bengali practitioners and to improve the quality of medical physics in Bangladesh through training and workshops.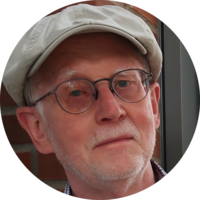 "Such a project, which organizes and provides medical training abroad from Germany, is unique. PTW has supported this project for years and was always particularly generous."

Dr. Frank W. Hensley
Dr. Frank W. Hensley, who up until 2014 was a medical physicist at the University Hospital Heidelberg and has jointly coordinated the project from the beginning, is delighted with the work of the SCMPCR: "A very dedicated team works extremely hard and independent. These people help themselves; we only support their commitment." However, because the center receives no funding from the state, there are always problems with financing. This makes donations, such as those from PTW, all the more important in order to cover the maintenance and investment costs of SCMPCR – from buildings to dosimetry equipment and even projectors for lectures.

Medical Physicists in the Whole Region Benefit
The second project coordinator, Volker Steil, head of the Medical Physics and Radiation Protection Department at the University Hospital Mannheim, adds: "What we have achieved together with Professor Zakaria, is the development of an infrastructure in Bangladesh, which, for the first time, makes it possible to offer medical physics training locally." He explains how the organization has changed over the years: At the beginning, students and practitioners were flown from Bangladesh to Germany for training. Over the last few years, however, more German experts travel to Bangladesh and teach on site. "This is not only cheaper, but also more sustainable," explains Volker Steil. "It is one of the reasons the on-going project has a positive effect across the whole region." Every year, the cost for medical physics and dosimetry seminars, accommodation and return travel to and from Bangladesh can be covered for 27 participants from different South Asian countries.



"The fact that the 2021 Asia-Oceania Congress of Medical Physics is to take place in Bangladesh is an absolute highlight, which also shows that our joint efforts are paying off."

Volker Steil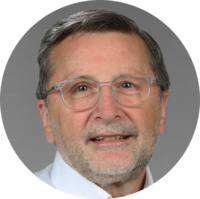 In previous years, the Asia-Oceania Congress on Medical Physics was organized by Australia, Malaysia or India and, in the past, also Thailand, China or Japan. The fact that in 2021, a comparatively poor country such as Bangladesh is allowed to be the host, is a very special acknowledgement of their work, says Golam Abu Zakaria.

More Information about the SCMPCR:

The SCMPCR regularly issues a newsletter about the research center's activities. More information about the goals and tasks, as well as the funding opportunities of the "Bangladesh Study and Development Centre" can be found on the association's website.
About the Authors

Professor Dr. Golam Abu Zakaria
Professor of Biomedical Engineering at the Anhalt University of Applied Sciences. Up until retirement in 2019, Head of Department of Medical Radiation Physics at Gummersbach Teaching Hospital of the University of Cologne
Founding chairman of the South Asia Center for Medical Physics and Cancer Research (SCMPCR) in Dhaka, Bangladesh
Since January 2018 nominated as Chairman of the Accreditation Committee II of the International Medical Physics Certification Board (IMPCB) and since October 2018 as Deputy Chairman of the Accreditation Committee of the International Organization for Medical Physics (IOMP)

Dr. Frank W. Hensley
Studied physics at Heidelberg University (1968–1974), PhD 1979 (Heidelberg University, Nuclear physics and Astrophysics)
Entered into medical physics in 1978 at the Institute of Medical Radiation Physics and Radiation Biology at Essen University Hospital (Radiotherapy with neutrons)
1990–2014 Medical physicist in the Department of Radiation Therapy and Radiation Oncology at Heidelberg University Hospital

Volker Steil, M. Eng.
Since 1983 works as a medical physicist in Frankfurt, Ravensburg and since 1990 at the University Hospital Mannheim
Since 2014 coordinator of two DAAD projects between both the Gono Bishwabidyalay University in Savar (Dhaka), Bangladesh, and the Heidelberg University, Medical Faculty Mannheim
Head of the Medical Physics and Radiation Protection Unit at the University Hospital Mannheim, as well as Radiation Protection Officer of the University Hospital Mannheim and the Medical Faculty Mannheim
We express our sincere thanks to all our sales partners who supported this education initiative by purchasing the PTW calendar!