PTW unterstützt Medizinphysik in Bangladesch
Schon seit den 1990er-Jahren setzen sich verschiedene deutsche Organisationen für die Medizinphysik in Bangladesch ein – auch PTW, durch Schulungen, Spenden und Dosimetrie-Equipment. Mit Erfolg: 2021 findet der Asiatisch-Ozeanische Medizinphysik-Kongress zum ersten Mal in dem südasiatischen Land statt.

Wenn er über den kommenden Medizinphysik-Kongress spricht, schwingt in der Stimme von Professor Golam Abu Zakaria unüberhörbar Stolz mit. Unwillkürlich spricht er noch etwas schneller – der Grund: Im Dezember 2021 wird der 21st Asia-Oceania Congress on Medical Physics zum ersten Mal in seinem Geburtsland Bangladesch stattfinden. Zakaria lebt seit 1972 in Deutschland, lehrt an der Hochschule Anhalt in Köthen und war bis zu seiner Pensionierung als Medizinphysiker im Klinikum Oberberg tätig. Fast genauso lang initiiert er Projekte, um die medizinische Versorgung in seinem Geburtsland zu verbessern, besonders in den Bereichen Medizinphysik und Dosimetrie. Der Kongress sei ein fantastischer Erfolg für Bangladesch, freut er sich und erklärt, wie es dazu kam: "Wir haben es in den letzten Jahrzehnten mit sehr wenig Geld und ganz viel Idealismus geschafft, Bangladesch zu einem Medizinphysik-Standort zu machen, der in die ganze Region ausstrahlt."


"Die Geschichte der Medizinphysik in Bangladesch hängt unmittelbar mit der Unterstützung aus Deutschland zusammen. Die Kooperation war der Startpunkt – davor gab es dort weder Ausbildung noch Linearbeschleuniger."

Prof. Dr. Golam Abu Zakaria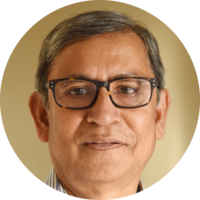 Geldspende und Dosimetrie-Equipment von PTW
Dazu beigetragen hat unter anderem PTW: Das Unternehmen unterstützt Golam Abu Zakaria bereits seit vielen Jahren beim Aufbau einer professionellen Medizinphysik-Infrastruktur in Bangladesch. Dafür reisen beispielsweise immer wieder Referenten der PTW-Weiterbildungs-Einrichtung "The Dosimetry School" in das südasiatische Land. Sie geben dort Seminare und führen Workshops für Studierende und Praktiker durch. Die dafür notwendige Dosimetrie-Hardware, mit denen die Kursteilnehmer üben, haben die Dozenten oft im Gepäck mit dabei. Außerdem unterstützt PTW durch Spenden, zuletzt im Jahr 2020: Der bei Kunden und Partnern seit Jahren beliebte PTW-Kalender mit Schwarzwald-Motiven wurde dieses Mal nicht verschenkt, sondern über den weltweiten PTW-Vertrieb zum guten Zweck verkauft. Dadurch kamen mehrere tausend Euro zusammen, die über den von Zakaria gegründeten Verein "Das Bangladesch Studien- und Entwicklungszentrum" komplett nach Bangladesch gingen – an das South Asia Center for Medical Physics and Cancer Research (SCMPCR).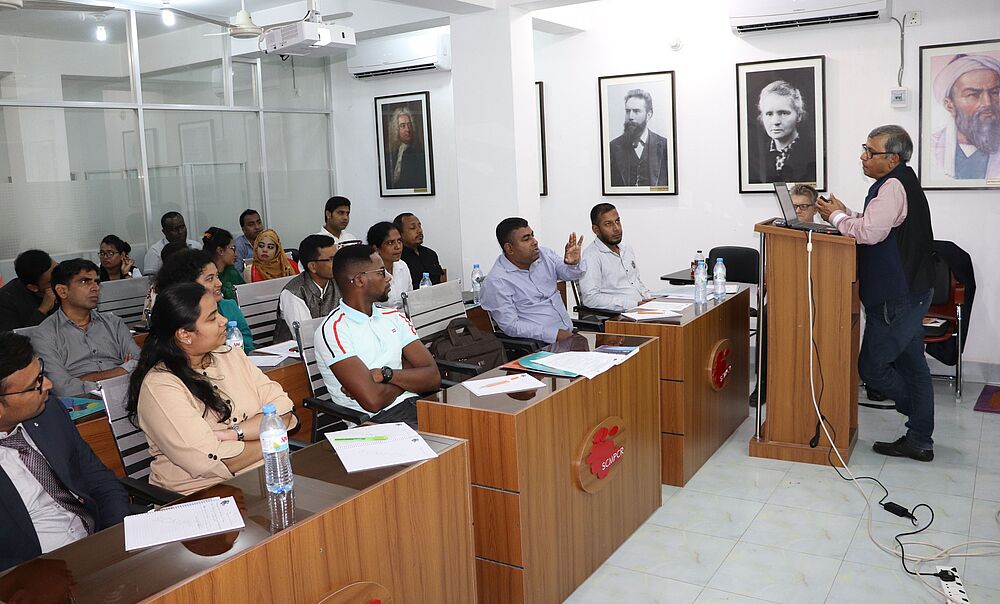 Engagement für die Medizinphysik in Bangladesch durch Schulung und Fortbildung: Praxis-Workshop zur Kleinfelddosimetrie im Trainingscenter des SCMPCR in Dhaka vom 02. – 04.10.2019, unterstützt von PTW; Foto: SCMPCR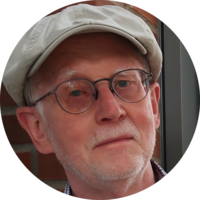 "Ein Projekt, das von Deutschland aus eine medizinische Ausbildung im Ausland betreibt und ermöglicht, ist einmalig. PTW unterstützt dies schon seit Jahren und war dabei immer besonders großzügig."

Dr. Frank W. Hensley
Dr. Frank W. Hensley, der bis 2014 Medizinphysiker am Universitätsklinikum Heidelberg war und das fortlaufende Projekt von Anfang an mit koordiniert, ist begeistert von der Arbeit des SCMPCR: "Dort arbeitet ein sehr engagiertes Team äußerst hart und führt viel in Eigenregie durch. Diese Leute helfen sich selbst, wir unterstützen das nur." Die Finanzierung sei allerdings immer ein Problem, weil das Zentrum keine Gelder vom Staat erhalte. Umso wichtiger seien Spenden wie die von PTW, damit Kosten für den Unterhalt und die Investitionen des SCMPCR gedeckt werden könnten – von den Gebäuden bis hin zu Dosimetrie-Geräten oder Beamern für Vorträge.

Medizinphysiker aus der ganzen Region profitieren
Der zweite Projekt-Koordinator Volker Steil, Leiter der Stabsstelle Medizinische Physik und Strahlenschutz an der Universitätsmedizin Mannheim, ergänzt: "Was wir gemeinsam mit Professor Zakaria geschafft haben, ist der Aufbau einer Infrastruktur in Bangladesch, die es überhaupt erst möglich macht, vor Ort Medizinphysik-Trainings anbieten zu können." Er erklärt, wie sich die Ausrichtung im Laufe der Jahre geändert hat: In der Anfangszeit wurden Studierende und Praktiker aus Bangladesch nach Deutschland geflogen, um sie dort weiterzubilden. In den letzten Jahren reisen dagegen vermehrt deutsche Experten nach Bangladesch und schulen direkt vor Ort. Das sei nicht nur günstiger, sondern auch nachhaltiger, erklärt Volker Steil. Es führe dazu, dass das fortlaufende Projekt in die gesamte Region ausstrahle: Jedes Jahr könnten für 27 Teilnehmer aus ganz unterschiedlichen südasiatischen Ländern die Kosten für Medizinphysik- und Dosimetrie-Seminare, Aufenthalt sowie An- und Abreise nach Bangladesch übernommen werden.


"Dass der Asiatisch-Ozeanische Medizinphysik-Kongress 2021 in Bangladesch stattfinden wird, ist ein absolutes Highlight und spricht für unsere gemeinsame Anstrengung."


Volker Steil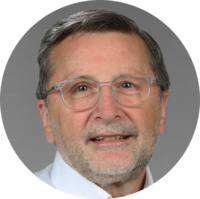 In den letzten Jahren richteten Australien, Malaysia und Indien den Asiatisch-Ozeanischen Medizinphysik-Kongress aus, in der Vergangenheit auch Thailand, China oder Japan. Dass 2021 ein vergleichsweise armes Land wie Bangladesch Gastgeber sein dürfe, sei eine ganz besondere Würdigung ihrer Arbeit, meint Golam Abu Zakaria.

Weitere Infos:
Das SCMPCR gibt regelmäßig einen Newsletter über die Aktivitäten des Forschungszentrums heraus. Über die Ziele und Aufgaben sowie Fördermöglichkeiten des "Bangladesch Studien- und Entwicklungszentrums" berichtet der Verein auf seiner Webseite.

Über die Autoren
Professor Dr. Golam Abu Zakaria
Professor für Biomedizinische Technik an der Hochschule Anhalt (Köthen). Bis zu seiner Pensionierung 2019 Abteilungsleiter für Medizinische Strahlenphysik am Lehrkrankenhaus Gummersbach der Universität Köln
Seit Januar 2018 nominiert als Vorsitzender des Akkreditierungsausschusses II des International Medical Physis Certification Board (IMPCB) und seit Oktober 2018 als stellvertretender Vorsitzender des Akkreditierungsausschusses der International Organization for Medical Physis (IOMP)
Gründungsvorsitzender des South Asia Center for Medical Physics and Cancer Research (SCMPCR) in Dhaka, Bangladesch
Dr. Frank W. Hensley
Studium der Physik an der Universität Heidelberg (1968–1974), Promotion 1979 (Universität Heidelberg, Kernphysik und Astrophysik)
1978 Einstieg in die Medizinphysik am Institut für Medizinische Strahlenphysik und Strahlenbiologie des Universitätsklinikums Essen (Strahlentherapie mit Neutronen)
1990–2014 Medizinphysiker in der Abteilung Strahlentherapie und Radioonkologie am Universitätsklinikum Heidelberg
Dipl.-Ing. Volker Steil
Seit 1983 beruflich als Medizinphysiker in Frankfurt, Ravensburg und seit 1990 an der Universitätsmedizin Mannheim tätig
Leiter der Stabsstelle Medizinische Physik und zentraler Strahlenschutz sowie Strahlenschutzbevollmächtigter der Universitätsmedizin Mannheim und der Medizinischen Fakultät Mannheim
Seit 2014 Koordinator von zwei DAAD-Projekten zwischen den beiden Universitäten Gono Bishwabidyalay in Savar (Dhaka), Bangladesch, und der Universität Heidelberg, Medizinische Fakultät Mannheim
Wir bedanken uns bei allen unseren Vertriebspartnern, die durch den Kauf unseres PTW-Kalenders diese Fortbildungsinitiative unterstützt haben!