PTW wins internationally renowned iF DESIGN AWARD 2021

Freiburg (Germany), 10 May 2021 - The dosimetry specialist PTW Freiburg GmbH (PTW) is a winner of this year's iF DESIGN AWARD, one of the most prestigious international design competitions.The winning product, UNIDOS® Tango, a reference class electrometer used for clinical dosimetry and quality assurance in radiation therapy, won in the competitive Product Design discipline, category Medicine / Health. Each year, the world's oldest independent design organization, Hannover-based iF International Forum Design GmbH, organizes the iF DESIGN AWARD to honor excellent design quality.
This year, the competition was particularly fierce: Almost 10,000 entries were submitted from 52 countries and judged on idea, form, functionality, innovation and impact. UNIDOS Tango won over the final jury, comprised of 98 independent design experts from all over the world, with its innovative technology and exceptional usability.
"For us, it is incredibly rewarding to receive such a distinction for a product that can be seen as a hidden hero in a radiation therapy department," say Ute Wüstefeld and Konstantin Burzlaff, marketing and product managers at PTW. "Electrometers like the UNIDOS Tango are largely inconspicuous in daily clinical routine. Yet they are indispensable for safety and reliability in radiation therapy and perfect examples of constantly refined measurement technology and innovative functionality."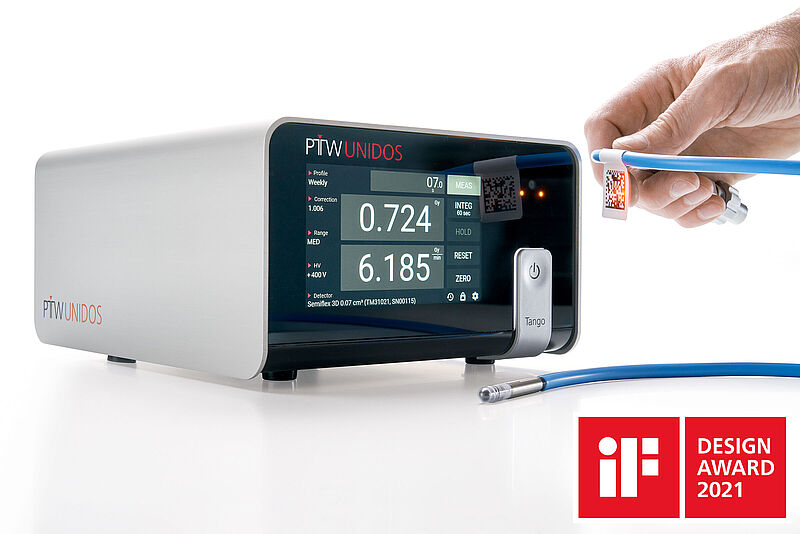 UNIDOS Tango combines innovative technology and exceptional usability in a modern design.
UNIDOS Tango is the latest generation of high-precision reference class electrometers from PTW, which was launched in 2020. It plays a major part in making cancer treatment safer as it helps to detect deviations in radiation dose delivery before a patient is treated. With its industry-leading accuracy and precision, Intelligent Detector Recognition (IDR) and remote wireless operation, the electrometer has set a new global benchmark in terms of technology and usability.
"The specific needs of future users have been our main focus throughout the entire development process", adds Ilka Schlesiger, project manager for UNIDOS at Art-Kon-Tor Produktentwicklung GmbH. "Design and functionality should work together to allow intuitive operation. Many satisfied users prove that we have achieved this goal. We are therefore particularly pleased to see that our commitment was rewarded with the iF Design Award, which recognizes the successful symbiosis of progress, usability and aesthetics. It is also a welcome opportunity for us to say thank you for our long business relationship with PTW."
More information about the UNIDOSTango entry can be found in the "Winners" section of the iF World Design Guide.

About PTW:
PTW is a global leader in high-precision dosimetry solutions for radiation therapy, diagnostic radiology and metrology. Founded in 1922, the German company is one of the pioneers in medical radiation measurement, helping advance patient safety in modern radiation medicine. PTW technologies and services enable radiation experts in over 160 countries worldwide to precisely monitor highly complex clinical radiation equipment. The dosimetry company also owns one of the oldest and largest accredited calibration laboratories in the field of ionizing radiation and established THE DOSIMETRY SCHOOL to promote the exchange of knowledge in clinical dosimetry. PTW operates globally with eleven international subsidiaries and 400 employees worldwide. For more information visit https://www.ptwdosimetry.com.

About the iF DESIGN AWARD
For 67 years, the iF DESIGN AWARD has been recognized as an arbiter of quality for exceptional design. The iF label is renowned worldwide for outstanding design services, and the iF DESIGN AWARD is one of the most important design prizes in the world. Submissions are awarded in the following disciplines: Product, Packaging, Communication and Service Design, Architecture and Interior Architecture as well as Professional Concept, User Experience (UX) and User Interface (UI). All awarded entries are featured on the iF WORLD DESIGN GUIDE and in the iF design app.


Media Contact International:
PTW Freiburg GmbH
Lörracher Strasse 7
79115 Freiburg/Germany
Ute Wüstefeld / Marketing Manager
+49 761 49055-591
ute.wuestefeld@ptwdosimetry.com