Scan. Analyze. Process. Document.
Benefit from BEAMSCAN's advanced software functions and tools that help you get accurate beam data much faster.
Precision scans at maximum speed
Save valuable linac time. Automate beam data acquisition with ready-to-use task lists for all major treatment planning systems. Create your own task lists to streamline repetitive and regular tasks, e.g., monthly or annual QA.
Key measurement tools at a glance
TPS-specific, customizable task lists for automatic beam data collection
Automatic water level check and reminder for efficient evaporation control
Online data analysis for immediate feedback on scan quality
Scan time predictor to better manage your measurement schedule
Advanced measurement options, e.g., TPR/TMR, output factors, absolute dose
Automatic beam inclination correction and "Dose Maximum Search" for accurate small-field measurements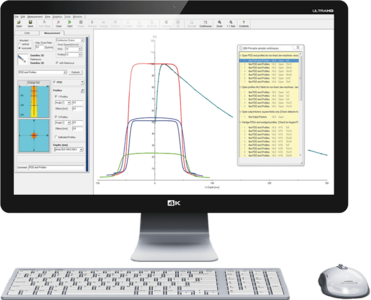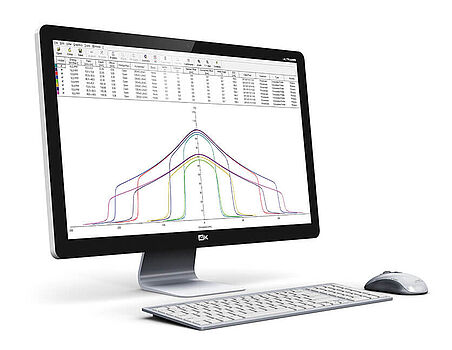 Analyze your beam data with a few clicks
BEAMSCAN software instantly analyzes your scans based on preset quality criteria or dosimetry protocols. Compare multiple scans against reference scans in seconds. Spot critical deviations immediately.
Key analysis tools at a glance
Multiple 1D Gamma scan comparison with "traffic light" results summary
Automated beam data analysis based on international, vendor-specific or user-defined dosimetry protocols
Automatic evaluation of FFF beam profiles
TPR/TMR calculations from depth dose measurements
Optimize scans for analysis
Save measurement time and improve scan quality with AI-based data processing. Choose from a variety of mathematical functions and filters that aid in visualization and data analysis.
Key processing tools at a glance
AI-based data processing
Smoothing data
Shifting profiles or PDDs
Normalizing profiles and PDDs
Mirroring profiles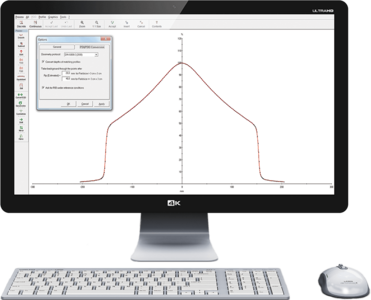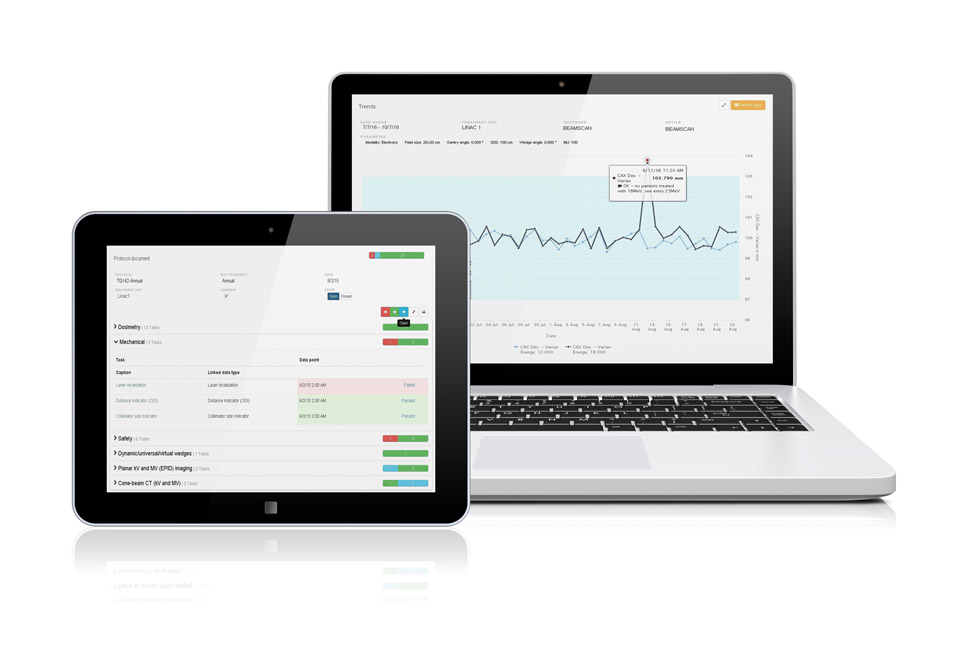 Track, trend and report with Track-it
Export your analyzed beam data to Track-it. Combined with BEAMSCAN software, the easy-to-use Track-it QA data management platform provides you with a streamlined solution from scanning to reporting that helps you maintain regulatory compliance.
Key reporting tools at a glance
Quick browser-based access to all QA data from anywhere in your network
Automated monitoring of QA tasks and reports on one single platform
Predefined, easy-to-customize protocol templates, e.g., for AAPM TG-142, DIN 6847-5/-6, 6875-4
Online or offline QA report generation, e.g., in vaults without wireless network
Trend analysis over time and across multiple measurement or treatment devices
eBook: Your Guide for Faster Setup, Faster Scanning, and Faster Results
Learn seven tips for maximizing BEAMSCAN efficiency and precision using advanced features and AI-based functions to deliver accurate, high-quality scans in less time.
BEAMSCAN® AI-Based Data Processing
Get better results, much faster
BEAMSCAN is the first water phantom which uses artificial intelligence (AI) to improve scan quality and, at the same time, significantly speed up profile and PDD measurements performed with Semiflex 3D and microDiamond detectors.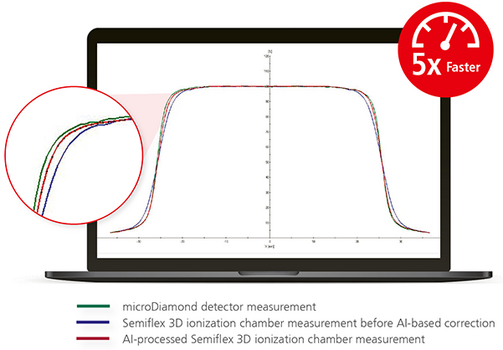 AI-Based "Deconvolve" Function:
Gold standard accuracy at up to 5x faster scanning speeds
Beam profiles of a 5 cm x 5 cm radiation field measured with Semiflex 3D ionization chamber at 10 mm/s scan speed before and after AI-based correction compared to a microDiamond detector measurement at 2 mm/s scan speed. The AI-based "Deconvolve" function corrects the volume effect in the penumbra region of beam profiles measured with the Semiflex 3D chamber in a one-click operation, achieving an accuracy comparable to that of microDiamond detector measurements.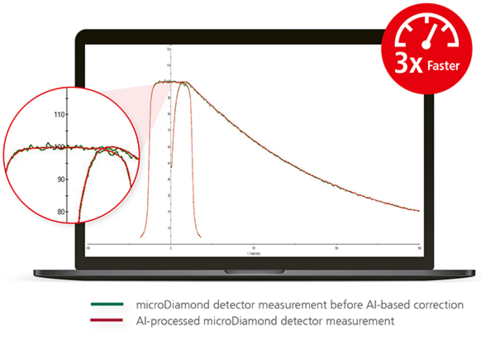 AI-Based "Denoise" Function:
Accurate scans at up to 3x faster scanning speeds
Beam profile and PDD measured with microDiamond detector at 20 mm/s scan speed before and after applying AI-based noise reduction. A higher scanning speed can impact the quality of profile and PDD measurements. AI "Denoise" compensates for signal noise in microDiamond detector measurements, which can be performed up to three times faster.