New Self-Confidence of the Medical Physics Community in Bangladesh
PTW will continue to support medical physics education and training in Bangladesh over the next three years. Professor Golam Abu Zakaria, Founding Director of the South Asia Centre for Medical Physics and Cancer Research (SCMPCR), is pleased: "PTW's commitment to support us for another three years makes our work easier and enables us to plan for the long term."

The "21st Asia-Oceania Congress on Medical Physics", which took place in Bangladesh for the first time in 2021, was a highlight for the emerging medical technology community in the country. "We are proud that the Congress, which has been held so far in countries such as Australia, Thailand and Japan, was hosted by Bangladesh in 2021," Professor Zakaria said. "It was a complete success." The event took place hybrid under pandemic conditions, both on site and online. The congress attracted 360 participants from 28 countries, mainly from Asia and Oceania, but also from other regions of the world. The online participants were offered a web conference at the highest technical level. They could go through a virtual industrial exhibition and enter individual lecture halls, between which they could also switch.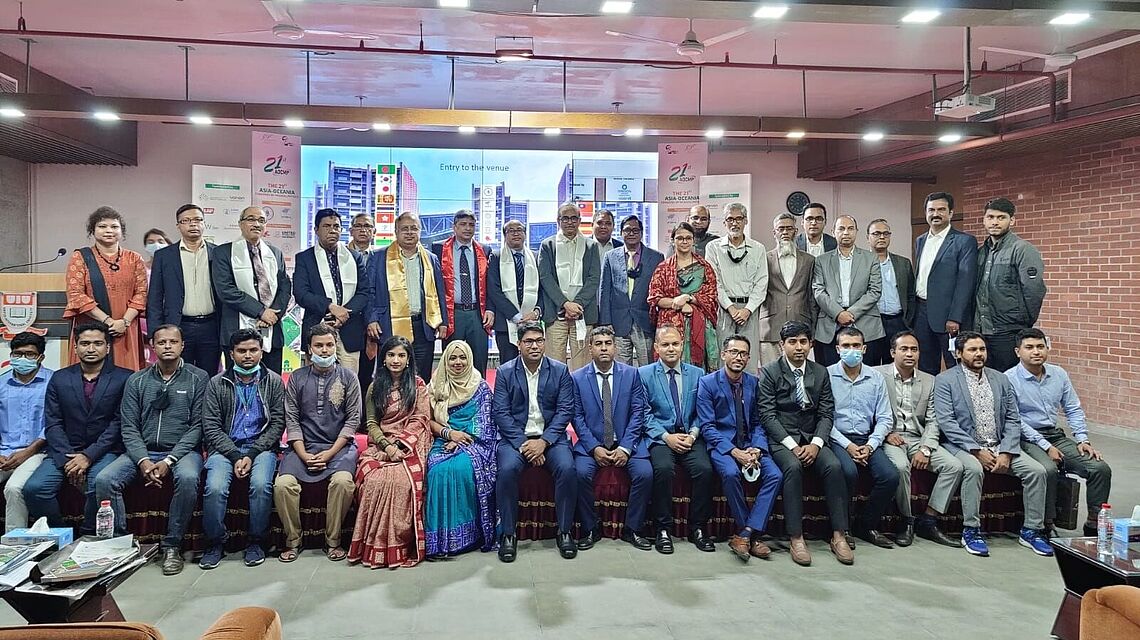 The 21st Asia-Oceania Congress on Medical Physics (AOCMP), which was held in Bangladesh in 2021 for the first time, attracted 360 participants from 28 countries. Photo: SCMPCR
Move to the center of Dhaka
Initially located outside Dhaka, SCMPCR moved to an office in the city in 2021, making it easier for people to reach. The premises are still rented, but the declared aim is to build a permanent center. Zakaria is committed to this together with Dr. Frank W. Hensley and Volker Steil, all three of whom have been supporting the SCMPCR from the very beginning.
E-learning and hands-on programs
The SCMPCR has set four priorities in its continuing education program: prevention, diagnostics, therapy and rehabilitation. E-learning courses were held in the fields of radiation therapy and diagnostic radiology in 2021 and 2022. Scientists from all over the world, including Germany, China, Singapore and the USA, participated in them. These courses are accredited, which means that participants receive certificates that enable them to prove their qualifications. In addition, the Senior Experts Service, a foundation of German business for international cooperation that provides volunteer specialists and executives, regularly sends experts from Germany to Bangladesh. A biomedical technician was on site for three weeks in November 2022. He instructed the staff in two hospitals in the handling of linear accelerators, X-ray machines and computer tomographs. Specialist staff also came from other hospitals in the country to attend these lessons. This successful program is to be continued in the future.
Starting from 2023, hands-on training is to provided again. The SCMPCR is in close contact with PTW for this purpose. In addition to financial resources, PTW also supports the SCMPCR with technical support by regularly sending experts for hands-on training to Bangladesh. The medical physics equipment, which the course participants use to practice, is always included in the baggage.
Tino Ebneth, head of PTW's Dosimetry School, will conduct a training program on modern radiotherapy in February 2023. "We are very pleased to be able to support the SCMPCR with this program again personally and on site. The exchange of knowledge is very valuable and the direct conversations are irreplaceable," Mr. Ebneth explained.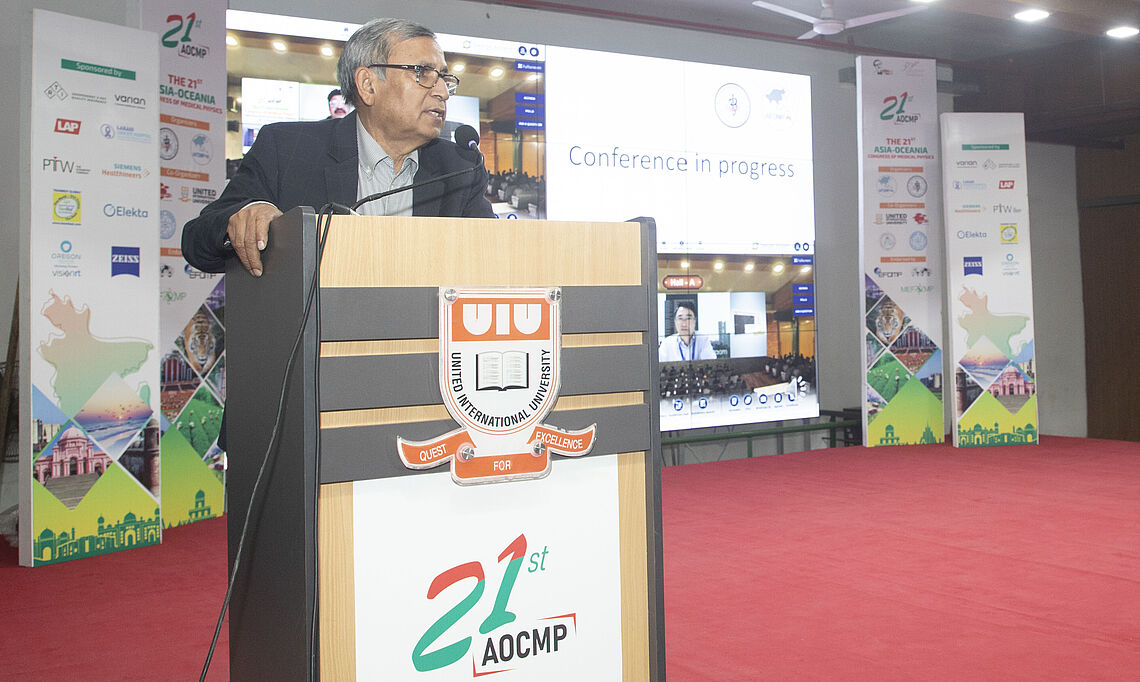 Professor Golam Abu Zakaria founded the SCMPCR in 2018 to advance education in medical physics and radiation oncology as well as provide preventive cancer care in Bangladesh.
Photo: SCMPCR
Health education through cancer awareness programs
However, the SCMPCR is not only active in the field of education and training in medical physics. The SCMPCR also makes an important contribution to health education in the form of cancer awareness programs. For example, breast cancer screenings are to be carried out at a health care center in a village in northern Bangladesh in cooperation with the SCMPCR. To this end, Professor Zakaria hopes to be able to purchase ultrasound and X-ray equipment. These examinations are part of a program by the Government of Bangladesh with the aim of significantly increasing the number of women undergoing breast cancer screening. In addition, the population has been informed about breast cancer screening at various events. With the activities of the SCMPCR, Professor Zakaria, Dr. Hensley and Mr. Steil are registering a growing acceptance among the population of Bangladesh to deal with the topics of health and cancer prevention. "The specialists trained in the SCMPCR come from the middle of society. Their credibility is high, so their information campaigns can make a significant contribution to raising the consciousness of people about these issues," Mr. Steil stated. This facilitates access to potential patients.
Sustainable strengthening of medical physics in the country
Mr. Steil also noted that financial and personnel investments in Bangladesh's medical physics are bearing fruit online. "When I observe the discussions on LinkedIn, I see that there are now more and more comments from the South Asian region, especially from Bangladesh, in discussions and contributions. A new self-confidence has developed there." According to Professor Zakaria, Dr. Hensley and Mr. Steil, support of the SCMPCR also benefits the medical physics community. The professionally planned events, where participants receive qualified answers to their questions, give people the opportunity to exchange ideas and make new valuable contacts. Dr. Hensley emphasized: "The community benefits when people know each other and exchange ideas. Thanks to the support of companies such as PTW, SCMPCR can promote this exchange further."
PTW has been supporting the SCMPCR for some time. Learn more about the previous sponsoring of medical physics training in Bangladesh, Professor Dr. Golam Abu Zakaria, Dr. Frank W. Hensley and Mr. Volker Steil as well as the PTW calendar campaign.
We express our sincere thanks to all our sales partners who supported this education initiative by purchasing the PTW calendar!
Would you like to make a donation to support the SCMPCR's work? More information can be found here: https://alobhubon.org/sc mpcr/.