IUCT-Oncopole
Toulouse, France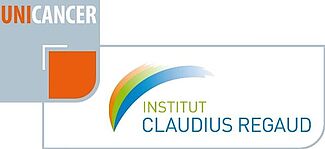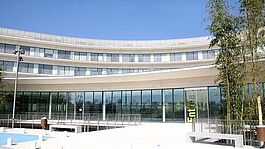 The IUCT-Oncopole, as a cancer care, research and training center in Toulouse, gathers the expertise of 1,800 professionals on a single site labeled "Comprehensive Cancer Center".
It combines several state-of-the-art clinical facilities for the treatment of cancer with a world-class research infrastructure, on an integrated campus that brings together public and private stakeholders, including industrial partners. The IUCT-Oncopole, which includes the Claudius Regaud Institute (ICR) and several teams from the Toulouse University Hospital, treats more than 10,000 new patients every year, and more than one in eight patients is enrolled in clinical studies. Its missions are providing the highest standards of cancer care, research and teaching. The strength of this model, a pioneer in France, lies in pooling the skills of the care and research teams who work together on a daily basis so patients can benefit from a comprehensive care offer at the cutting edge of innovation. Most of the basic and translational research teams are guided by dual expertise, medical and scientific, a powerful driver of innovation for the treatment research continuum.
Since its opening in 2014, unprecedented research projects have been recognized and published in prestigious scientific journals, clinical research has doubled and patient care has begun its revolution to meet the new challenges of cancer care, while recent discoveries are now opening up new therapeutic perspectives to prevent and cure cancers in an ever-more personalized way.
In 2021, 36 880 patients have been treated at IUCT-Oncopole and 58 442 radiotherapy sessions have been provided.
The department of radiation oncology is composed of the following equipment:
1x Varian True Beam STx

6 and 10 WFF and 6 and 10 FFF beams, MLC HD120, Exactrac device (Brainlab), Perfect Pitch

1x Varian True Beam STx (MLC HD)

6 and 10 WFF and 6 and 10 FFF beams, MLC HD120, Exactrac device (Brainlab), Perfect Pitch
HyperArc (Varian)
AlignRT (Vision RT)

2x Tomotherapy HD (Accuray)
1x Tomotherapy Radixact (Accuray) with ClearRT
1x Varian Halcyon with AlignRT
1x Varian Clinac iX (MLC 120) with OBI
1x dedicated GE CT
1x dedicated Siemens Aera MRI
4x devices for brachytherapy:

4x MicroSelectron (Elekta): 3 for PDR and 1 for HDR
1x device for I-125 seed implants
1x Intrabeam (Zeiss)
All the techniques IMRT, VMAT, TBI, stereotactic treatments (SBRT, SRS and SRT), IGRT, SGRT are available.
For many years, the Claudius Regaud Institute has relied on PTW quality assurance devices, such as:
2x PTW OCTAVIUS II
2x PTW OCTAVIUS 4D (2 x top standard and 1x top SRS plus)
2x PTW OCTAVIUS Detector 729
1x PTW OCTAVIUS Detector 1500
1x PTW OCTAVIUS Detector 1000 SRS
1x PTW OCTAVIUS Detector 1600 SRS
1x MP3 Water Phantom with TPR Options
1x BEAMSCAN Water Phantom with TPR Options
1x MP1 Water Phantom
1x LA48 Detector
1x RUBY Phantom
Several PTW ion chambers (PinPoint, Semiflex3D, Semiflex, Farmer, Markus Advanced, Roos…) and solid state detectors (Diamond, micro-Diamond, Diode E)
Several PTW Electrometers (UNIDOS webline, UNIDOS, Multidos)
Several solid phantoms (RW3 slab phantoms, inhomogeneity phantom)
Laure Vieillevigne, PhD, HDR
Head of Medical Physics Department
Phone +33 (0)5 31 15 54 78
Fax +33 (0)5 31 15 59 28