Radiotherapie Hirslanden
Zurich, Switzerland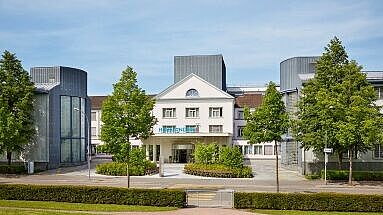 Radiotherapie Hirslanden
Medical Physics
PD Dr. Uwe Schneider
PD Dr. Dr. Andreas Mack
Dr. Matthias Hartmann
Dipl.-Phys. Jürgen Besserer
Dipl.-Ing. Uwe Gneveckow
M.Sc. Anne-Marie MacArtain
Dipl.-Phys. Fabrizio Storelli
Beat Keller

Radiotherapie Hirslanden (http://www.hirslanden.ch) currently operates two clinics, one at Hirslanden Klinik Aarau (since September 2004) and another one at Hirslanden Klinik Zurich (since January 2007). Both clinics are equipped with Varian OBI Clinac's, the latest IGRT technology from Varian Medical Systems Inc. and serve as European IGRT reference for Varian Medical Systems Europe. Furthermore as European GE reference institution Radiotherapy Hirslanden is using dedicated large bore CT Scanners GE Lightspeed RT Pro equipped with LAP CT4 Laser systems for virtual simulation. In addition a Cyberknife system from Accuray is in operation since 2009.

The medical physics department acts as a reference site for PTW dosimetry applications; providing advice on market trends and product development.
The department has expertise in dosimetry, quality assurance, patient positioning, phantom development, radiotherapy networking, respiratory gating and image guided radiotherapy.

Besides several UNIDOS, UNIDOSwebline and MULTIDOS dosemeters, QC6Plus QA systems, remote controlled MP3-M water phantoms, 2D-ARRAY seven29 panel detectors and LA48 linear arrays, a large set of chambers is used for all kind of dosimetry measurements and quality control of the radiation beams. New PTW products will be tested and applied for dosimetry measurements, verification of IMRT and VMAT treatment techniques and quality control of the treatment machines to meet the high standard of accuracy, necessary for IMRT treatments.
PD Dr. Uwe Schneider
Head of Physics Department
Radiotherapie Hirslanden AG
Phone Aarau +41 (0)62 836 7805
Phone Zürich +41 (0)44 387 2559
Fax +41 (0)62 836 7801
uwe.schneider@hirslanden.ch
uschneider@vetclinics.uzh.ch


Site CH-5000 Aarau:
Institut für Radiotherapie
Hirslanden Medical Center
Rain 34

Site CH-8032 Zürich:
Institut für Radiotherapie
Klinik Hirslanden
Witellikerstrasse 40

www.bestrahlung.ch