Cancer Centre
Belfast, Northern Ireland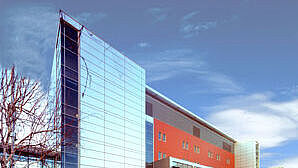 The Northern Ireland Cancer Centre currently operates from Belfast City Hospital, as part of the Belfast Health and Social Care Trust.
Diagnostic equipment includes: 1 Acuity Sim-CT and 2 GE-Optima CT-SIMs (4DCT).
There is also an IBU unit for HDR and a prostate seed service. Current linear accelerators include 4 Varian 600CDs, 1 Varian 2100CDs, 4 Varian TrueBeams and 1 Varian TrueBeam Stx.
Treatment planning systems include: Elekta Oncentra Masterplan, Varian Eclipse and BrainLab iPlan. MU checking software utilized is RadCalc® (LifeLine Software Inc)
Current PTW equipment includes:
UNIDOS Electrometers, 2 PinPoint ionization chambers, Semiflex chamber, MicroDiamond chamber, 3 LINACHECKs, Dosimetry Diode P, Dosimetry Diode E
Plotting tank system (Water tank, Water reservoir, TBA control unit. TANDEM electrometer, Thimble chamber type 31002 (x4), Markus electron chamber, Soft X-ray chamber 23344, Dosimetry Diode (photons), 2 Dosimetry Diode (electrons) and Dosimetry diode (SRS).
MEPHYSTO software including VeriSoft® Patient Plan Verification Software
Well-Type Chamber W33004, SourceCheck T34051,
Strontium check source (cathetron ref source).
OCTAVIUS® 4D, OCTAVIUS® 729 detector array, OCTAVIUS® 1000 SRS detector array and QUIICKCHECKwebline.
The Radiotherapy Physics Department is a reference site for PTW Dosimetry and acts as a beta test site for selected products and developments. The department has expertise in radiobiology, dosimetry, quality assurance, phantom development and image guided radiotherapy. It has strong links with the Centre for Cancer Research and Cell Biology, Queens University Belfast.