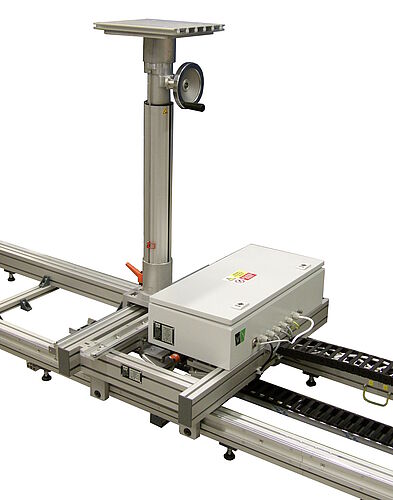 The CB-60 Calibration Bench is designed to accurately position the instrument undergoing calibration into a beam of ionizing radiation
It allows the source-to-instrument distance to be accurately set up to a maximum of 10 meters so that the instruments, or multiple instruments, are irradiated with a precisely defined radiation value.
It is suitable for both gamma and neutron radiations.
The position of the calibrated device in the beam of ionizing radiation can be set in up to four axes:
X: distance from the source,
Y: shift left/right from the centre of the beam,
Z: shift up/down from the centre of the beam.
R: optional rotation of the worktable
All of these four axes can either be manually operated or fully automated and remotely controlled from a computer.
As standard, the bench consists of:
a segmented track with two rails with integrated adjustable feet able to compensate for uneven floors
a trolley with a reliable control unit
an absolute position sensor for measuring the X-axis position with high accuracy
an instrument worktable for calibration of various instruments from different manufacturers
a camera for remote reading of data from calibrated instruments
Optionally, various other tools can be provided such as instruments jigs and fixtures, phantoms (body, wrist, and finger), laser alignment system, linear scale for source-instrument distance verification, measurement of environmental conditions during the calibration process etc.
Catalog
Radiation Medicine Catalog (
)