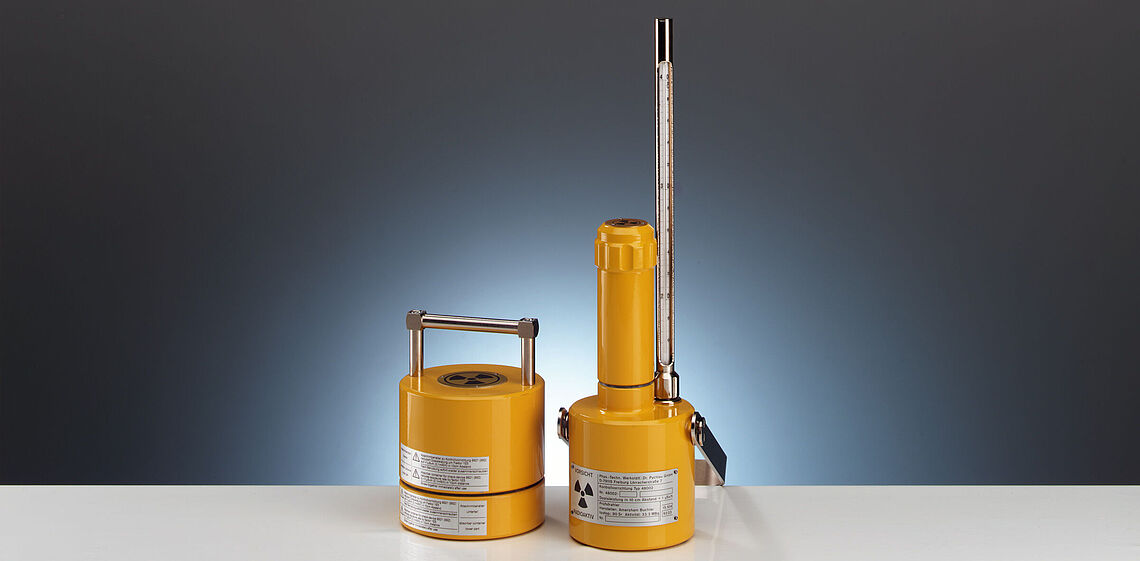 Radioactive Check Devices
Radioactive check devices for air density correction and constancy checks of therapy dosemeters
Perform air density corrections when using vented ionization chambers
Check proper functioning and constancy of the complete dosemeter
Two types for thimble and flat chambers are available
Include encapsulated low activity of 33 MBq (type T48012) resp. 20 MBq 90Sr (type T48010)
The radioactive check devices enable medical physicists to check the stability of ionization chamber response and to determine air density correction factors. Check readings should be done each time before starting a dose measurement.
The chamber calibration certificate includes the reference reading under standard conditions. The check reading will decrease over time due to the decay of the activity. Both check devices include shielding containers, and the check device T48012 is supplemented by a thermometer for controlling the check device temperature.
Various holding devices for the adaptation of different ion chambers are available. Due to the arrangement of the radioactive source of the check device model T48012, the measuring volume of the inserted thimble chamber is irradiated from all directions.
The cylindrical source of the check device model T48010 is placed near to the entrance window of flat ion chambers by means of the appropriate holding device.
The source T48012 is equivalent to ISO class C64445, the source T48010 is equivalent to class C6X444.
The dose rate in 10 cm distance is below 1 µSv/h (with cover closed).
Please observe the national regulations for transport and use of radioactive material. Before shipping, we need a confirmation certifying that the purchaser is allowed to handle the radioactive sources