Marien Hospital Düsseldorf:
Streamlining daily operations with Track-it

Learn from medical physicist Sebastian Wellner about the advantages of using the web-based data management platform Track-it for their annual audit and daily quality assurance. Find out how Track-it makes QA data of all types and sources simple and accessible.
Download case study
Why they chose Track-it
QA data management and reporting take a lot of time and energy, regardless of whether this concerns the annual audit or daily quality assurance tasks. Clean and efficient data management is often difficult if QA data is distributed over several locations or is only available in handwritten or paper form. Protocol templates must be updated when regulations change and made immediately available on each linear accelerator in operation. Critical parameters need to be carefully monitored to detect deviations at an early stage. As a browser-based data management platform, Track-it helps to address these challenges.
How they benefit of using Track-it in daily clinical routine
Since 2018, Track-it has been in use at Marien Hospital Düsseldorf to simplify daily operations. Because the system is browser-based, it can be accessed and operated by any authorized site user at any time using any end device, whether PC, laptop, tablet or smartphone. Data can even be entered offline in the treatment room, e.g., via a tablet, and is automatically transferred to Track-it when the network is available again, which is a big advantage.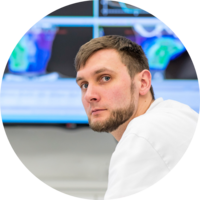 "When QA procedures change due to new regulations, it has been very time consuming for us to update everything. With Track, it's now pretty simple."
Sebastian Wellner, Marien Hospital Düsseldorf
All QA data is kept in a central database, automatically structured, readable and compliant to national and/or internal standards (e.g., DIN or AAPM TG-142). This makes it easy to maintain an overview of completed and pending QA tasks. As a result, all tests are now accomplished much more efficiently. Measurement results can be found quickly via convenient search functions or saved filters. The trend function helps to detect subtle but important changes in tolerances and deviations from expected values, so appropriate action can be taken before standards are violated.
Outlook: A paperless future
Currently, only the medical physics team at Marien Hospital Düsseldorf is using the digital logbook function in Track-it. In the future, however, the radiologists/dosimetrists (MTRA) should also be able to make entries into the digital logbook. Paper documentation on the clinic's linear accelerators will then become completely superfluous as all information recorded in the logbook will then be available digitally at all times. The digital logbook is particularly useful when troubleshooting, e.g., in the event that an error message occurs at an accelerator and it is not immediately apparent whether the message is appearing for the first time or repeatedly.

Marien Hospital Düsseldorf
Clinic for Radiation Oncology and Radiology,
Member of the Catholic Hospital Group Düsseldorf
Radiation Equipment:
3 linear accelerators
1 intraoperative irradiation unit
1 brachytherapy unit
Measuring Devices:
2 QUICKCHECK webline
1 OCTAVIUS 4D with OCTAVIUS Detector 729
1 MP3 3D water phantom
1 EPID QC Phantom
Various PTW detectors
Medical Physics Department:
6 medical physicists
2 student assistants
Use of Track-it:
since August 2018
Number of Track-it licenses:
1