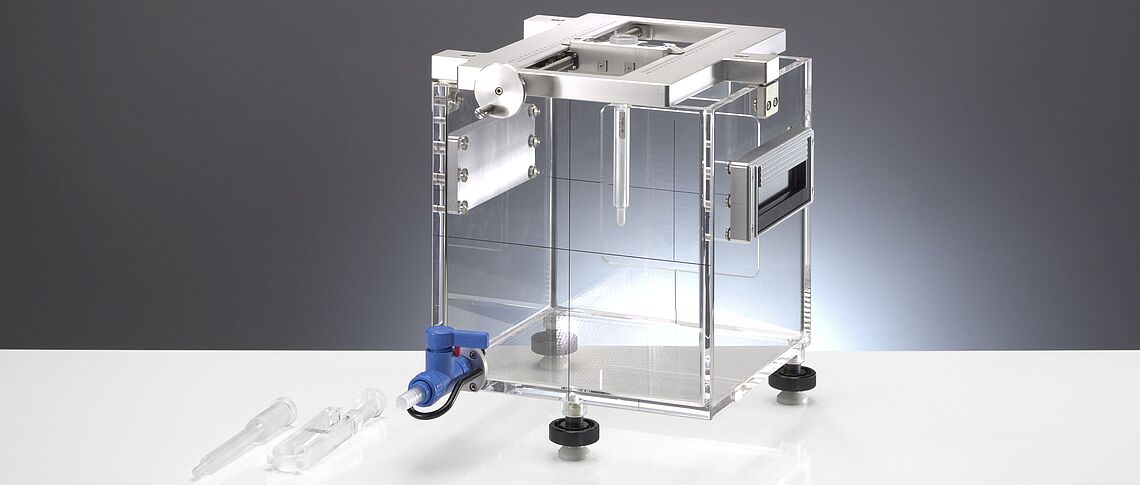 Water Phantom 41023 for Horizontal Beams
Small size water phantom with sliding caliper for reference dosimetry with horizontal beam incidence
Suitable for calibration of ionization chambers in highenergy photon and electron beams
Suitable for monitor calibration in water
Makes it possible to irradiate up to three chambers simultaneously
Makes it possible to vary the measuring depth continuously
The water phantom type 41023 is designed for calibration measurements in radiation therapy using a horizontal beam.
Up to three ionization chambers (alternatively TL detectors and FeSO4 ampoules) can simultaneously be placed at different water depths with a distance of 50 mm from chamber axis to chamber axis by using waterproof acrylic adapters.
The measuring depth can be adjusted continuously by means of a caliper on the phantom top.
Appropriate adapters enable users to position thimble chambers precisely in depths from less than 15 mm up to 260 mm and planeparallel electron chambers as well as thermoluminescent detectors from 6 mm up to 260 mm.
The external phantom dimensions are approximately 30 cm x 30 cm x 30 cm. The entrance window in one of the walls has the thickness of 3 mm and the size of 170 mm x 170 mm.
The phantom has two handles for easy carrying, three adjustable supports for leveling, etched cross hairs for alignment and a collision protected drain tap for emptying without tilting or changing the phantom's position.