STARCHECK and STARCHECK maxi
Detector arrays for quality control and linac beam adjustment measurements
STARCHECK is a precise and reliable tool for fast measurements in radiation therapy beams. Typical applications are quality control and Linac beam adjustment measurements with the detector panel embedded in a solid state phantom. The ionization chambers feature excellent relative response stability, avoiding the need of frequent recalibration. A full set of four profiles is measured in real-time, making STARCHECK useful for start-up behavior checks of the Linac. Additional detectors distributed along the array's side axis allow checks of MLC leave positions.
The optional FIELDCHECK and BQ-CHECK phantoms extend the scope of the STARCHECK system allowing to measure the congruence of light and radiation field and to check the constancy of the beam quality of high energy photon and electron beams.
Detector Array with 707 ionization chambers (STARCHECK maxi) and 527 ionization chambers (STARCHECK)
Real-time beam scanning without water tank measurement
High resolution of 3 mm on the main axes and the diagonals
Detector size: 0.05 cm³
Large field size: 26x26 cm² for the STARCHECK and 40x40 cm² for the STARCHECK maxi
Gold standard ionization chambers – no need for frequent recalibration
Expert analysis tools, e.g. profile comparison, protocol-based analysis, movie mode
Fully integrated with Track-it for automated reporting
Time saving workflow for real-time beam scanning
Water tank measurements can be really time consuming, especially if only the constancy of the linac parameters needs to be checked. The STARCHECK is the appropriate detector to accelerate this workflow. For profile measurements, it is sufficient to put the STARCHECK on the treatment couch without any additional preparation. The high resolution of 3mm on the main axes and diagonals guarantees results that are comparable to water tank measurements.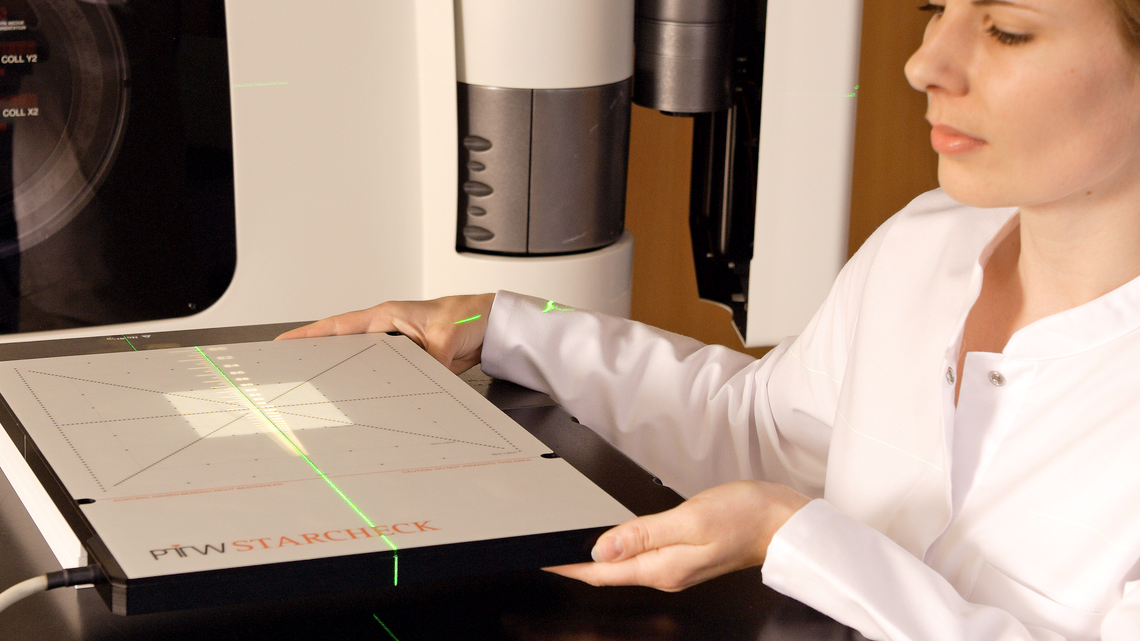 Large field size coverage
The use of the STARCHECK and STARCHECK maxi guarantees precise, high-resolution measurements for different field sizes. The STARCHECK detector is suitable for field sizes up to 26x26 cm² and with a rotation of 45° also for a field length larger than 36 cm.
For the STARCHECK maxi, we have the maximum field size of 40x40 cm² that will cover the most quality assurance requirements. If it is necessary to measure longer fields, the diagonal enables precise profile measurements up to a length of 56 cm.
How can I use the STARCHECK detector for linac QA? How are measurements performed? Which software do I use for my measurements? How can I export my data to Track-it? Watch this practical step-by-step video that guides you through the entire workflow.
Note
STARCHECK Application Note (
)
Note
Profile Measurements STARCHECK (
)
Catalog
Radiation Medicine Catalog (
)